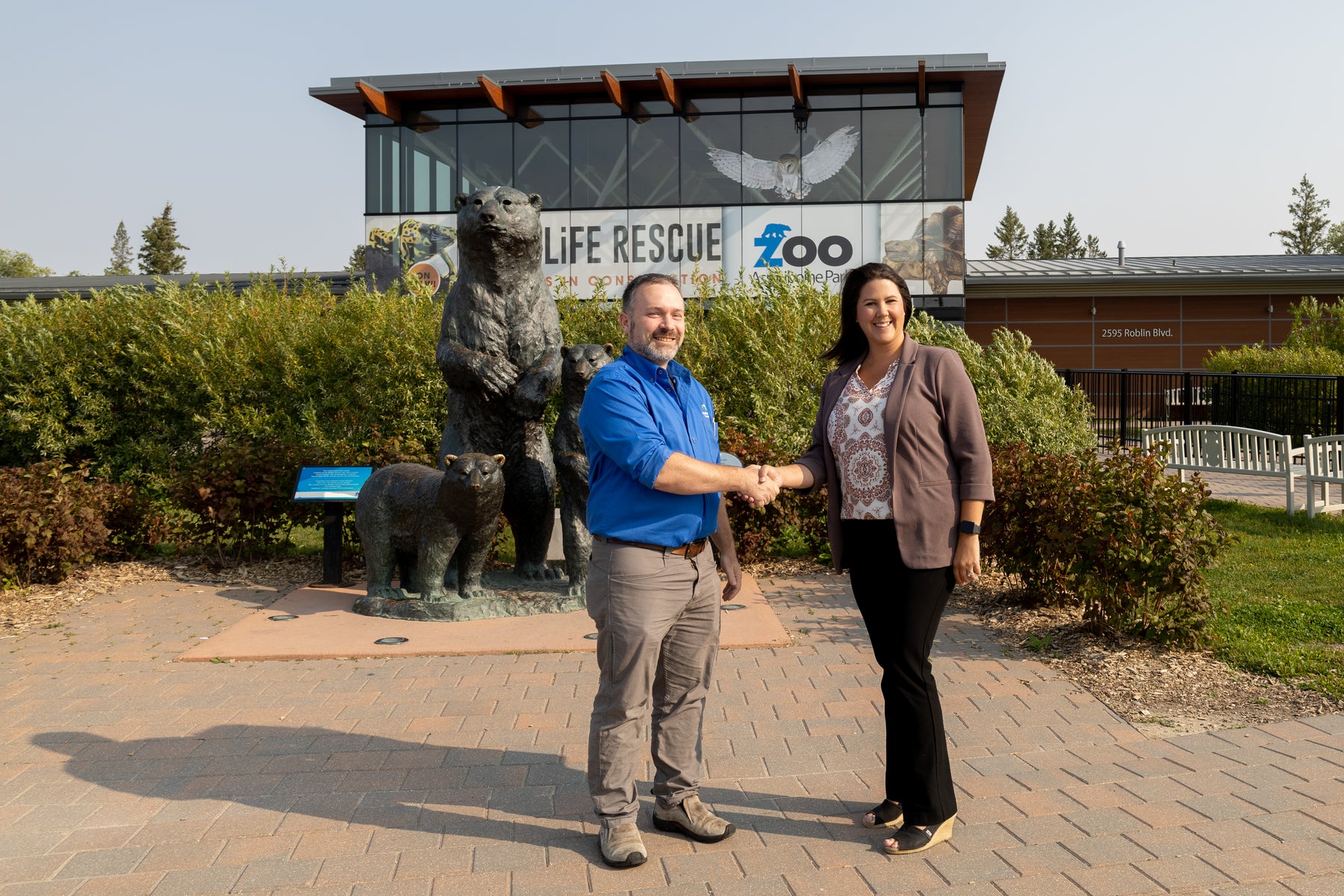 Assiniboine Park & Zoo and Wildlife Haven Forge New Partnership for Wildlife Conservation
 A Vision of Unity: Advancing Wildlife Conservation Together
The announcement of this partnership marks a significant milestone in the collective efforts to ensure the well-being of Manitoba's wildlife. With aligned visions and shared values, the Assiniboine Park & Zoo and Wildlife Haven are excited to amplify their impact by working hand-in-hand toward common goals.
At the heart of this partnership lies a clear commitment to making a positive difference in the realm of wildlife rehabilitative care. The alliance envisions a future where injured or sick animals have access to the necessary care and support they need to recover and thrive. This commitment is only the beginning of a comprehensive strategy designed to drive change and build a healthier coexistence between humans and wildlife.
Key Goals of the Partnership
The partnership between is built upon a foundation of goals, each designed to address different aspects of wildlife conservation:
Accessible Rehabilitative Care: A core objective is to make wildlife rehabilitative care more accessible, ensuring that injured or ailing animals receive the care they require to make a successful return to their natural habitats.

Knowledge Dissemination and Awareness: Through joint educational initiatives, the partnership seeks to spread knowledge and awareness about Manitoba's rich wildlife and the importance of conservation. By fostering a deeper connection between the community and the region's natural wonders, the organizations hope to inspire a collective sense of responsibility for wildlife protection.

Action on Conservation: Beyond raising awareness, the partnership is firmly committed to taking action. Conservation efforts will include activities aimed at preserving and restoring the habitats that sustain Manitoba's diverse array of species.
A Multi-Faceted Approach to Conservation
This new partnership covers several initiatives that will help wildlife in Manitoba – from veterinary care, to community engagement!
Collaborative Veterinary Care:

 

The Zoo veterinary team will help support wildlife patients by providing collaborative veterinary care and clinical support for cases managed at Wildlife Haven.

Public Drop-Off Location: A forthcoming public drop-off location in Assiniboine Park will offer a crucial lifeline for injured or sick wildlife. Here, animals will receive temporary care before being transferred to Wildlife Haven's facilities in Île-des-Chênes.
Sharing Best Practices: Both organizations will share best practices in the field of conservation and wildlife protection, fostering a culture of continuous learning and improvement.
Professional Development and Training: Staff and volunteers will benefit from joint professional development and training opportunities, ensuring that the partnership's impact is maximized through a skilled and knowledgeable workforce.
Community Engagement and Education: Collaborative community engagement and education initiatives will bridge the gap between people and wildlife, encouraging a sense of stewardship and responsibility for the well-being of Manitoba's natural treasures.
Research and Conservation: The partnership will explore avenues for joint research and conservation projects, leveraging their combined expertise to drive meaningful change.
A Bright Future for Wildlife Conservation in Manitoba
As the Assiniboine Park & Zoo and Wildlife Haven formalize this partnership, the stage is set for an exciting journey toward a better future for wildlife in Manitoba. 
This partnership is not only a testament to the power of collaboration but also an example of what can be achieved when organizations unite behind a common cause. 
🎥 Special thanks to @Build Films for the filming and production of this video and the donation of their time!